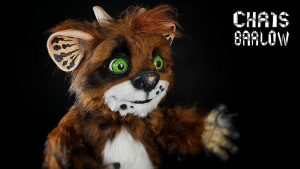 an early concept prototype for the bcc[/caption
This was one of the early concept monster puppets I made for the BBC. This was for the development phase of the Feeling Better puppets, to be on Cbeebies. This Monster was just to test if a creature style was appropriate. I made a few of these before going back to a more cartoony style that was eventually featured in the show.
About Me:
I am a professional puppet maker and creature creator. I design, illustrate, sculpt and fabricate. With a past background in performance as both an actor and puppeteer. I develop characters and build puppets, I always approach the project from the point of view of the performer. I strive to build characters that are engaging and believable, whilst making them a joy to perform; allowing the puppeteer to get the maximum, most versatile performance out of them. I have worked in puppets and creature FX for a number of years; spanning TV, Film, theatre and online mediums. Please do take a look through my galleries: puppets, Illustration, sculpture, Design or you can look over my experience to see some of the clients and projects I have worked on over the years. if your interested in any of my work please don't hesitate to contact me.